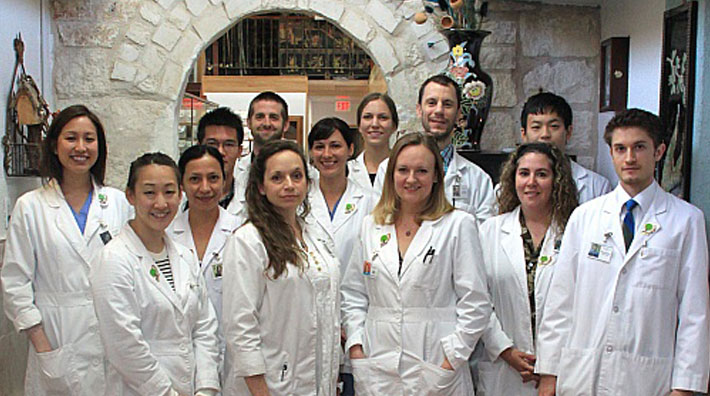 Student Intern Clinic
| | |
| --- | --- |
| Monday | 1:00pm – 3:00pm || 5:00pm – 7:00pm |
| Tuesday | 1:00pm – 3:00pm |
| Wednesday | 1:00pm – 3:00pm || 5:00pm – 7:00pm |
| Thursday | 1:00pm – 3:00pm || 5:00pm – 7:00pm |
| Friday | 1:00pm – 3:00pm |
| Saturday | 9:00am – 11:00am |
| Sunday | 1:00pm – 3:00pm and by Appointment |
$28.00 (Treatments performed by THSU students, supervised by Licensed Acupuncturists)
$20.00 (Seniors 65 years and older with valid photo ID)
Gift certificates available for purchase – 5 acupuncture treatments for $100 ($40 savings).  Please call (512) 445-4444 for more information.

Please complete the form below prior to your appointment.  If unable to do so beforehand, please print out and bring with you to your appointment, and arrive 10-20 minutes before scheduled.
Clinic Intake Form
School Instructor Evaluation Clinic
Your first three treatments are $15 each!
Patients receive their assessment and treatment from an experienced faculty member, while students observe and learn the fundamentals of assessment and the formulation of a treatment plan using the principles of acupuncture and Traditional Chinese Medicine. These appointments are available Monday, Tuesday, Wednesday, Thursday, and Friday, with morning and evening appointments available.
Clinic Evaluation (CE) treatments cover a specific set of diseases and patients must be eligible to qualify. Please call 512-445-4444 to schedule an appointment for the appropriate day based on the criteria for each session type.
Request an Appointment Online Now: