Business Faculty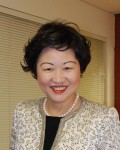 Lisa Ping-Hui Tsao Lin, L.Ac., E.M.B.A.
MBA Instructor
E.M.B.A., Zhongnan University of Economics and Law (China)
Ming Chuan University (Taiwan)
President Lin, along with her husband Paul Lin, are the founders of Texas Health and Science University, in 1990 – the first acupuncture school in Texas.  After graduating from Taiwan's Ming Chuan University, majoring in accounting and statistics, Ms. Lin studied traditional Chinese medicine with Dr. P. R. Sun, a renowned doctor of Traditional Chinese Medicine in Taiwan.  Ms. Lin has distinguished herself as a pioneer in the profession of Acupuncture and Oriental Medicine by her successful efforts to pass acupuncture legislation in the State of Texas; in her position as the first Chair of the Education Committee of the Texas State Board of Acupuncture Examiners; and in her work to set high standards for the practice of Acupuncture and Oriental Medicine throughout the United States. In 1993, then-governor Ann Richards appointed Lisa Lin to serve on the newly established first Texas State Board of Acupuncture Examiners, on which she served until 1999.  Ms. Lin is a Licensed Acupuncturist and has practiced Traditional Chinese Medicine in Texas for more than 30 years.  She is the President of the Texas Association of Acupuncturists since 1999.
David G. Vequist IV, Ph.D.
MBA Instructor
Ph.D. in Industrial/Organizational Psychology, University of Tulsa, Tulsa, OK
M.A. in Industrial/Organizational Psychology, University of Tulsa, Tulsa, OK
B.S. in Industrial/Organizational Psychology/Management, Northern Arizona University, Flagstaff, AZ
Teaching Specialization:  Strategy, Management, Business Statistics, Organizational Behavior and Organizational Development
Dr. Vequist is Associate Professor of Management of University of the Incarnate Word in San Antonio, Texas.  He worked as project manager for Ernst & Young in the areas of competency modeling, organizational development, and customer relations manager.  He also served as Director of Human Resources, Planning and Systems for Methodist Healthcare System.  Dr. Vequist's research interests include training technologies, management of technology, business strategy, project management, competency modeling, data warehousing, knowledge management, organization behavior and effectiveness, and quality improvement.
Ramey Ko, J.D.
MBA Instructor
J.D. with Honors, University of Chicago Law School, Chicago, IL
B.A. in History, Yale University, New Haven, CT
Teaching Specialization: Business Law
Dr. Ko is a lecturer and practicing lawyer in the areas of immigration, small business, criminal, and commercial litigation. He works extensively in the Asian American community in Austin and serves on numerous boards, including the Greater Austin Asian Chamber of Commerce. Dr. Ko has served as commissioner for the City of Austin Public Safety Commission, associate judge for Austin Municipal Court, legal intern for the U.S. Department of State and for Senator Tom Harkin, and law school exam instructor for Kaplan, Inc. His skills and broad practical experience make him a welcome faculty member at Texas Health and Science University.
MBA Instructor
Sc.D. in Health Services Research, Tulane University, New Orleans, LA
MHA in Health Systems Management, Tulane University, New Orleans, LA
BBA in Business Administration, University of Louisiana, Lafayette, LA
Teaching Specialization:  Business Administration in Healthcare
Dr. Preston brings his extensive experience to the Master of Business Administration in Healthcare Management program at THSU.  He has served as Chief Executive Officer for Oncologics, a company of eight radiation and oncology clinics, and GMG Management Group, in which he was responsible for business units under a holding company including primary care clinics, outpatient surgery center, physical therapy, occupational medicine, radiology and urgent care.  He was CEO and Founder of Synergist Research, where he serviced co-owned research centers as well as contract research functions to various start-up pharmaceutical companies.  From 2010 to 2012, Dr. Preston served as Vice President for Academics, Research and Assessment at Texas Health and Science University.  He has served as Professor at University of the Incarnate Word in San Antonio and is currently Professor at Texas A&M University where he teaches graduate-level business and management students and conducts research in the areas of epidemiology, statistics, healthcare policy, health insurance systems, and healthcare management.
MBA Instructor
MBA Metropolitan State University
M.A. in Strategic Studies, Army War College
M.S. in Accounting, Liberty University
Mr. Dan Puhl has worked in not for profit, for profit, and federal government positions for 25 years, culminating as a Plant Manager for Sodexho Marriott Services. After completing his MBA, he continued accounting studies and passed all four sections of the CPA examination on the first attempt in 2002. He worked as financial controller for small businesses until being called to Active Duty to command the mobilization and demobilization activities at Fort McCoy, Wisconsin for two years. After returning to Minnesota, he managed Fairview Health Services $2 billion annual cash flow and $1.6 billion of investments until being selected as Chief Financial Officer for the 2008 Republican National Convention. Following the Convention, he started Cardinals FEC Compliance Services, PLC to provide contribution processing, recordkeeping, and FEC reporting for federal committees. In 2011, he accepted the position of Chief Financial Officer for the Republican National Committee. In 2012, he resumed his work with Cardinals FEC Compliance Services as they added national, state, PAC, and candidate client committees. Dan holds master's degrees in Business from Metropolitan State University, and Strategic Studies from the US Army War College.
Wei Li, Ph.D.
MBA Instructor
Ph.D., Electrical and Computer Engineering, University of Iowa
M.A., Management Science, University of Iowa
B.S., Wireless Communication Engineering, Beijing University of Post and Telecom
Dr. Li brings extensive experience in the fields of communication technology and computer science to the THSU College of Business Sciences. With professional experience that includes engineering and design at Texas Instruments and Intel Corporation, Dr. Li bridges the gap between engineering and management sciences through his leadership and management experience within these firms.
Antonio Holloway, MBA
MBA Instructor
Financial Aid Officer
M.B.A. Healthcare Management, Our Lady of The Lake – San Antonio, Texas
B.B.A. Finance, Wayland Baptist University, Plainview, Texas
Mr. Holloway's professional career spans over twenty-five years in Title IV financial aid administration, and includes experience working with for-profit and private not-for profit institutions. He is very active in training provided by National Association of Financial Aid Administrators (NASFAA) and The Texas Higher Education Coordinating Board (THECB), and has served before on committees with both organizations. He is also a member of Delta Mu Delta and Kappa Gamma Pi honor societies.